Active
This application does not need additional settings. So you can make

connection

only by using your login credentials or by following the instructions below.
Moduly FAPI vám umožňují extrahovat data z faktur, aktualizovat prodejní položky, nebo přijímat notifikace.
Než začneme, je třeba:
Abyste mohli FAPI s Boost.space integratorem používat, je třeba mít vytvořený FAPI účet. Ten je možné vytvořit na adrese fapi.cz/trial.
Note

Kolonky v modulech, jejichž popisek je zobrazen tučným písmem (ve scénáři Boost.space Integratoru, ne v této dokumentaci) jsou povinné!
Pro vytvoření spojení mezi Boost.space Integratorem a vaším FAPI účtem je potřeba zadat při vytváření spojení své přihlašovací jméno kterým se přihlašujete k svému FAPI účtu a API klíč, který si pro účely tohoto propojení vygenerujete ve svém účtu FAPI pomocí tlačítka Nový API klíč v nabídce Můj účet > API klíče.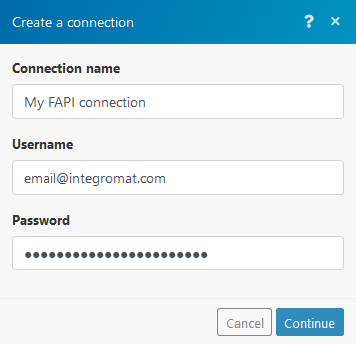 Po vložení svých přihlašovacích údajů klikněte na tlačítko Continue/Pokračovat a můžete začít s nastavováním modulu.
Podrobnější informace o integraci FAPI naleznete v článku Propojení aplikací pomocí služby Boost.space Integrator.
---
Do you need help with something specific regarding FAPI?
We are here for you.
Get support on the road to success from real experts.
We will help you set up your business processes, create connections from your current IT stack, and set up data analysis.
Get in touch