Active
This application does not need additional settings. So you can make

connection

only by using your login credentials or by following the instructions below.
The Zoho Forms allow you to monitor forms submissions in your Zoho Projects account.
Prerequisites
In order to use Zoho Projects with Boost.space integrator, it is necessary to have a Zoho Projects account. If you do not have one, you can create a Zoho Projects account at www.zoho.com/forms.
Note

The module dialog fields that are displayed in bold (in the Boost.space Integrator Boost.space Integrator, not in this documentation article) are mandatory!
To connect your Zoho Forms you need to set up the Watch Form Submissions webhook module and register the webhook in your Zoho Forms Account.
Triggers when a new form is submitted.
To set up this webhook please follow these steps:
In our example above, we set the webhook that only the email address is returned.
When the form is submitted, the specified details are returned in the module's output.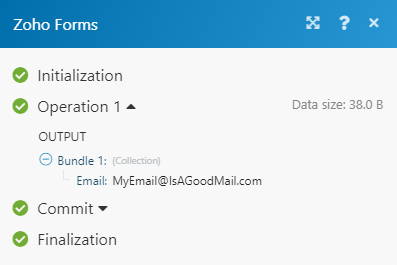 ---
Do you need help with something specific regarding Zoho Forms?
We are here for you.
Get support on the road to success from real experts.
We will help you set up your business processes, create connections from your current IT stack, and set up data analysis.
Get in touch