In order for Boost.space IntegratorPart of the Boost.space system, where you can create your connections and automate your processes. to automate your tasks for you, you have to create a scenario. A scenario is comprised of a series of modules that indicate how data should be transferred and transformed between apps/services.
There are 4 steps to creating a scenario:
Choose your apps
Test your

scenario

Activate your

scenario
Scenarios are active or inactive. You can change the scenario status by clicking the ON/OFF button in the scenario detail.
To rename your scenario, click on the scenario's name in the top left corner. Pressing ENTER or clicking outside the edited field will save the new scenario name.

TriggersEvery scenario has a trigger, an event that starts your scenario. A scenario must have a trigger. There can only be one trigger for each scenario. When you create a new scenario, the first module you choose is your trigger for that scenario. Create a trigger by clicking on the empty module of a newly created scenario or moving the... allow you to select the first bundleA bundle is a chunk of data and the basic unit for use with modules. A bundle consists of items, similar to how a bag may contain separate, individual items. that you want to process in the scenario. See Selecting the first bundle.
Modules, by default, always return only two bundles. You can change this in the module settings field Maximum number of returned bundles.
Boost.space Integrator allows you to configure a number of other advanced settings. See Scenario settings.
To exemplify how to create a scenario, we will go through the process step-by-step. In our example scenario, we are adding new incoming emails to a Google Sheets spreadsheet as a new row.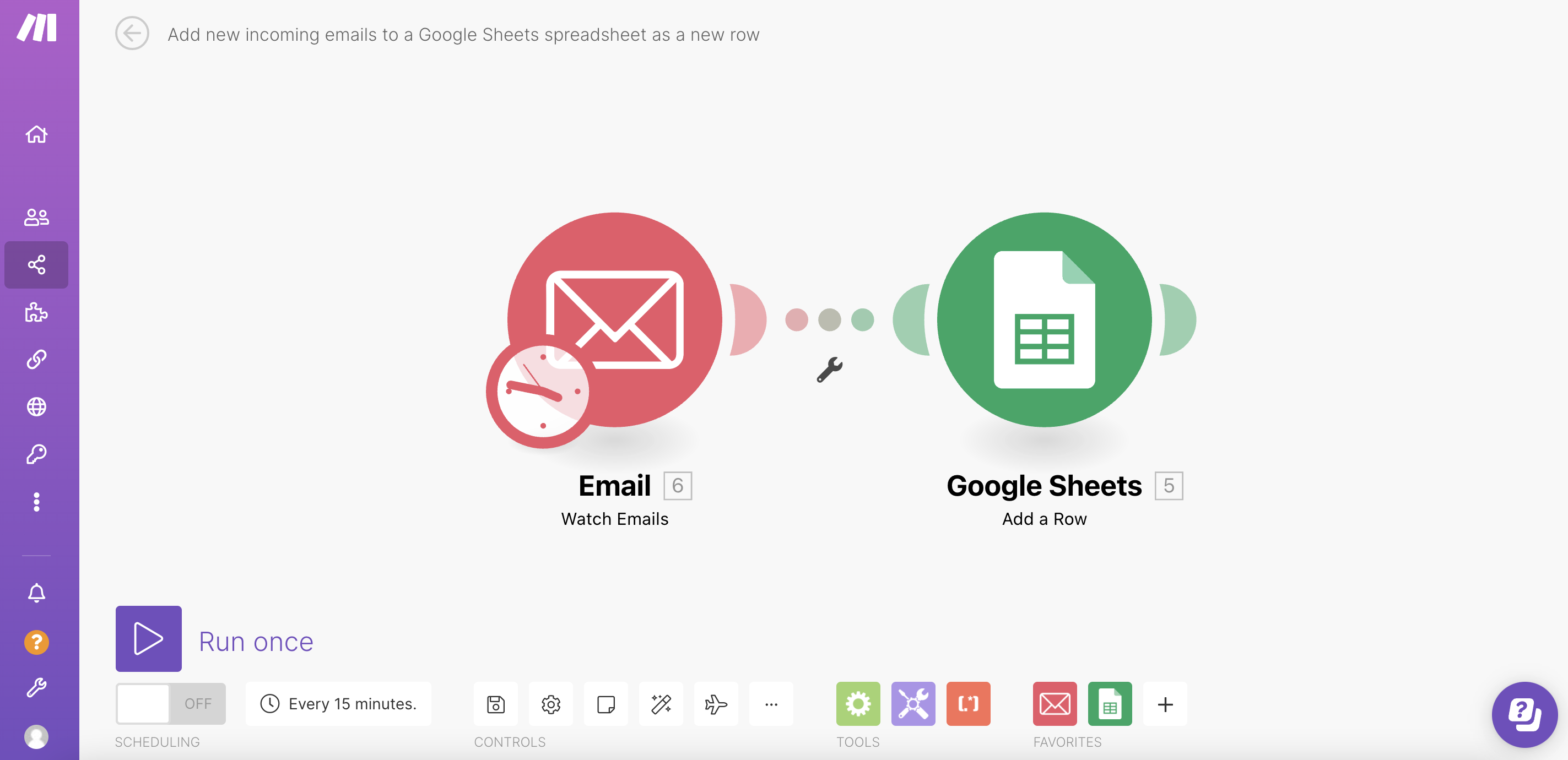 Note
Before you begin creating any

scenario

, ensure you are signed in to your account and on your Dashboard page.
Go to your organization dashboard and click Create a new scenario button.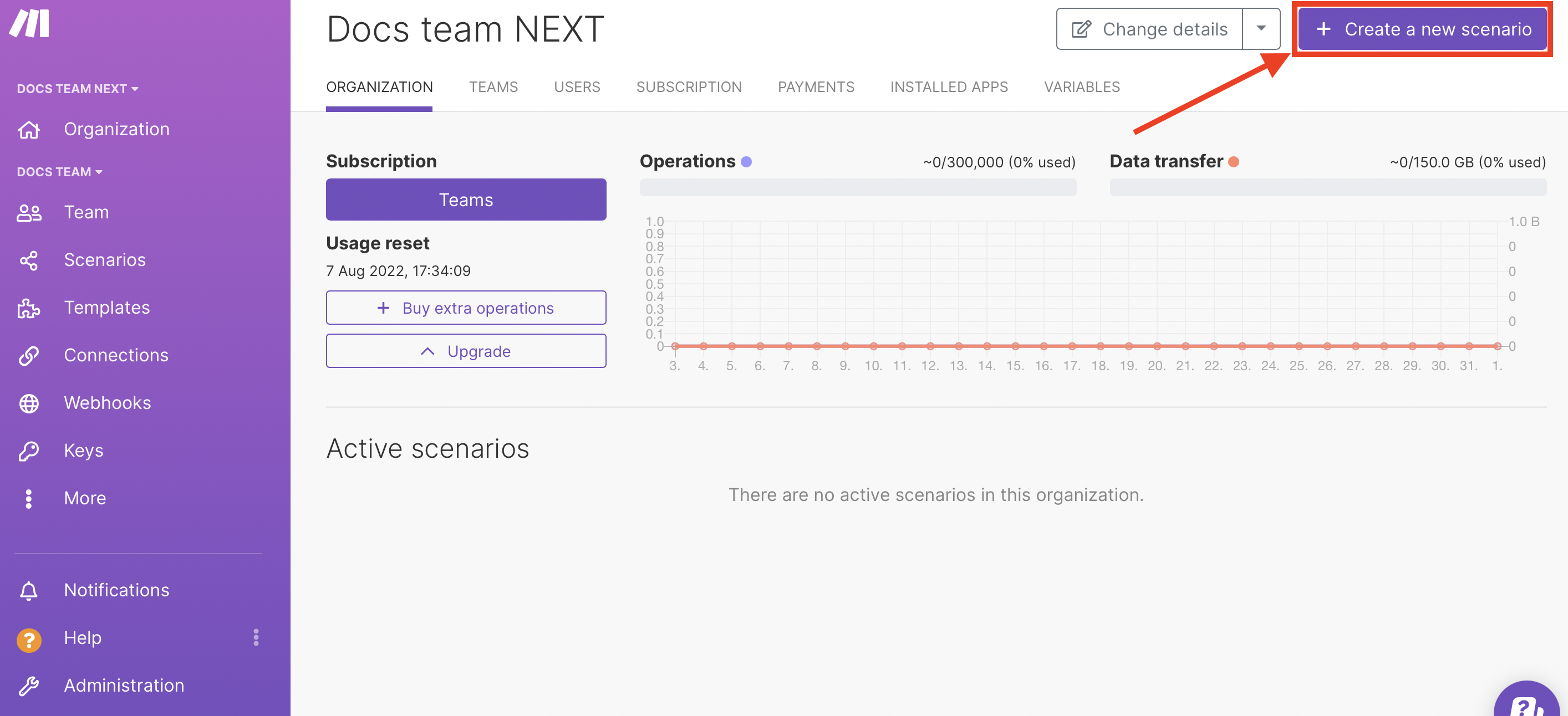 You can also go to Scenarios > Create a new scenario.

Click the plus icon. A list of apps appears. In the search field, search for the app you want to use. In this case, search for Email.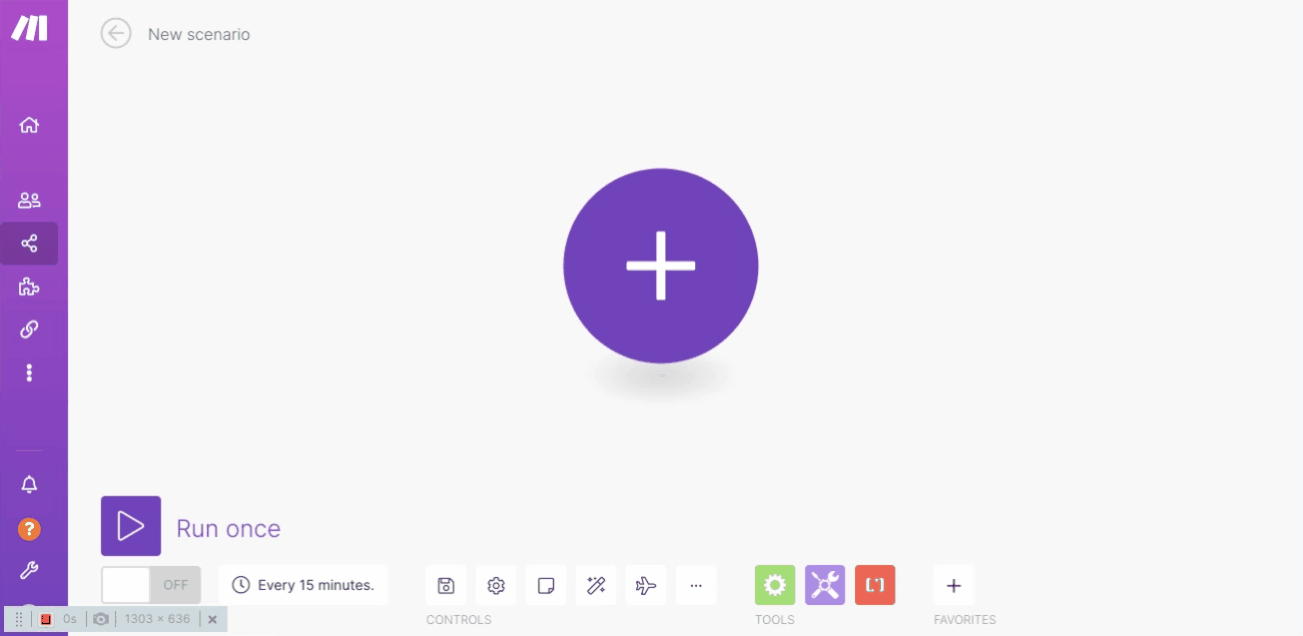 Add an Email module
Select the folder whose emails you want to watch.
Go to 

Scenarios

 > Create a new 

scenario

Add Email > Watch email module.
Create a connection

Unique, active service acces point to a network. There are different types of connections (API key, Oauth…).

to your email.
Select the folder whose emails you want to watch.
Select the criteria of the emails you want to watch from the dropdown menu.
(optional)Specify if you want to watch emails from a specific email address, emails that contain a specific phrase, etc.
Click OK to save.
A pop-up appears. Choose from when to want to start watching emails.
Click OK to save.
Add Google Sheets > Add a row module
Hover over the right part of the Email module. The plus sign appears. Click Add another module. An empty module appears.
Search for and click the module you want. In this case, select Google Sheets > Add a row module.
Create a connection to your Google account.
Under Choose a method, select whether you want to select your spreadsheet from the list or manually.
Under Choose a Drive, select your drive.
In Spreadsheet ID, select your spreadsheet. If your spreadsheet is in the folder, first select the folder. Then, click the plus sign to select the specific spreadsheet in the folder.
Select the sheet name.
Select whether your table contains headers. Our table contains headers, but yours doesn't have to.
In values, map the data you want to get in your spreadsheet. If your table has headers you will see the header names before the letter in brackets.
Click OK to save.
Note
For more robust

scenarios

, repeat the same steps for Step 2 until all the modules are added.
Before you activate and schedule your scenario, you should test your scenario by running it once.
To test your

scenario

, click the play button with Run once beside it.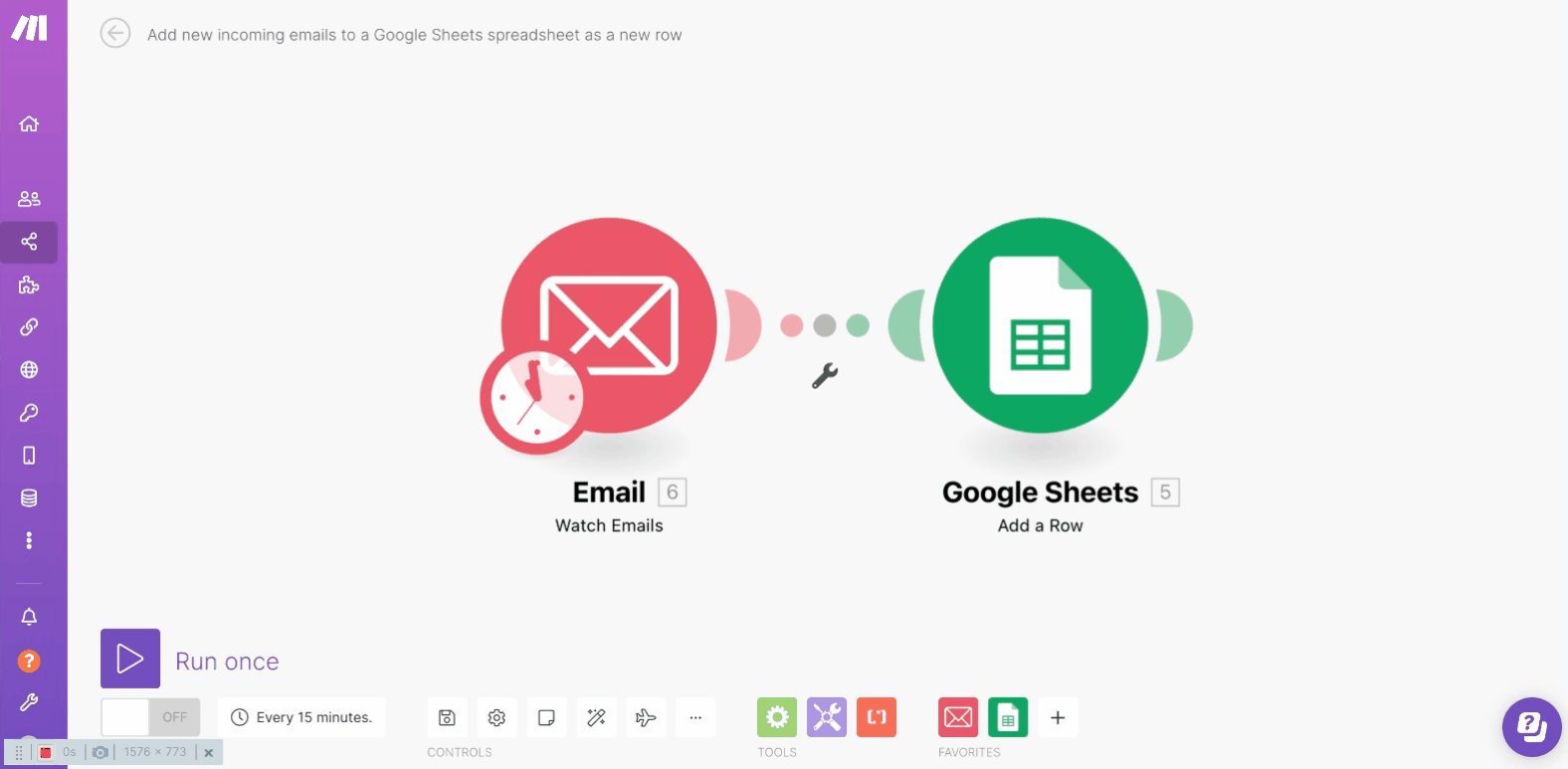 Once you have tested your scenario, a bubble appears on top of the preceding modules that will provide information about the processed data or what is referred to as bundles.
By clicking this icon it will display the information about the processed bundles, including the number of operations. By clicking the individual operations (OperationAn operation is a task performed by module. 1 and Operation 2 in the diagramThe diagram is a visual representation of your scenario and appears exactly the same way as you see your scenario in the Scenario editor. Use the diagram tab to quickly view:
the execution history of your scenario.
the number of operations and data consumed.
the controls to manage the scenario.
below), you can see which module settings were used and which bundles were returned by which module. For more information, please see the Execution flow section.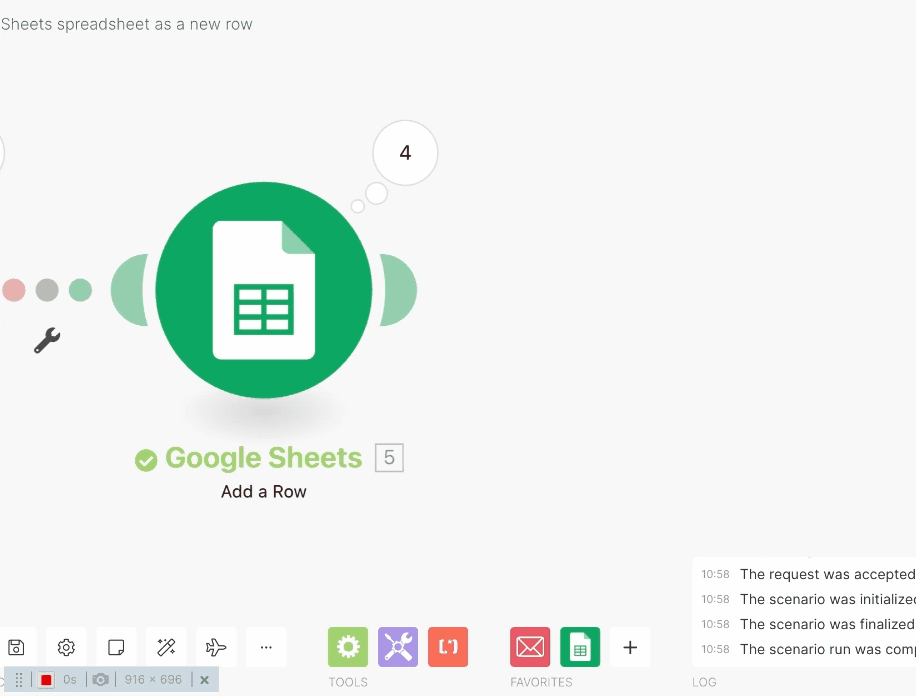 Testing your scenario is vital for seeing how data flows through your scenario. It will also help to show if there are any errors in your scenario.
Note
If you encounter an error for any

scenario

, please see our Error processing section.
Your scenario is almost ready to run, but it's still inactive.
To schedule your 

scenarios

, click on the Schedule setting.

Set how often you want your

scenario

to run.
Click OK to save.
To activate your 

scenario

, exit the 

scenario

 editor by hitting the arrow icon in the top-left corner, as shown in the animation below.

Click the ON/OFF button to activate your scenario and setting up the schedule.
Once activated, your scenario will run according to its schedule.
For further details on Scenario Editor, please visit our Scenario Editor documentation.