Active with remarks
This application needs additional settings. Please follow the documentation below to create your

connection

.
Moduly SmartEmailing vám umožňují vytvářet, upravovat a odhlašovat kontakty, nebo získávat statistiky kampaní ve svém účtu SmartEmailing.
Než začneme, je třeba:
založit SmartEmailing účet
Abyste mohli SmartEmailing s Boost.space integratorem používat, je třeba mít vytvořený účet SmartEmailing. Ten je možné vytvořit na adrese www.smartemailing.cz/zdarma.
Kolonky v modulech, jejichž popisek je zobrazen tučným písmem (ve scénáři Boost.space Integratoru, ne v této dokumentaci) jsou povinné!
Pro vytvoření spojení mezi Boost.space Integratorem a vaším SmartEmailing účtem je potřeba zadat při vytváření spojení své přihlašovací jméno a API Key, který vygenerujete ve svém SmartEmailing účtu.
1. Přihlaste se do svého SmartEmailing účtu.
2. Zvolte v levém menu Můj účet > API klíče.
3. Klikněte na tlačítko Vytvořit API klíč.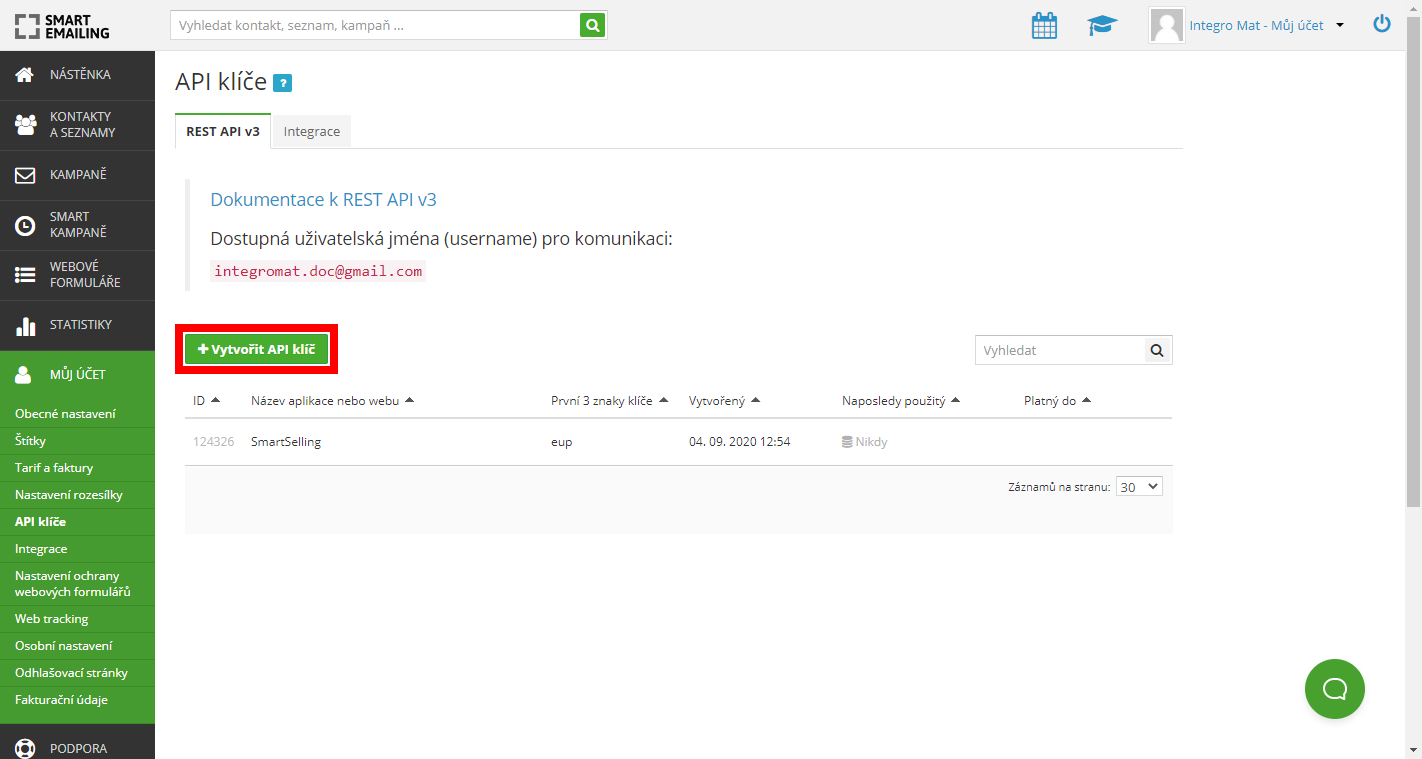 4. Zadejte název aplikace (například Boost.space Integrator) a klikněte na Uložit.
5. Zkopírujte vygenerovaný API klíč a uložte si jej na bezpečné místo.
6. Otevřete Boost.space Integrator a dialog Create a connection SmartEmailing modulu.
7. Zadejte do příslušných kolonek své uživatelské jméno a API klíč, který jste vygenerovali v kroku 5 výše a potvrďte kliknutím na Continue.

Spojení bylo navázáno. Nyní můžete začít s nastavováním modulu.
Odhlásí kontakt ze seznamu kontaktů.
| | |
| --- | --- |
| Connection | |
| Email Address | Zadejte emailovou adresu kontaktu, který chcete odhlásit. |
| Contact lists to unsubscribe | Zvolte seznam kontaktů, ze kterého chcete kontakt odhlásit. |
Vytvoří nový nebo upraví stávající kontakt.
Popisy polí tohoto modulu naleznete ve API dokumentaci v sekci Import – Import contacts.
Získá statistiky odeslaných kampaní.
| | |
| --- | --- |
| Connection | |
| Select Newsletter | Zvolte kampaň, pro kterou chcete získat statistiky. |
---
Do you need help with something specific regarding SmartEmailing?
We are here for you.
Get support on the road to success from real experts.
We will help you set up your business processes, create connections from your current IT stack, and set up data analysis.
Get in touch