Active with remarks
This application needs additional settings. Please follow the documentation below to create your

connection

.
To use any of the above integrator. Designed to work with data inside the application.']module[/tooltip]s, you need to have SugarCRM accessible from the Internet and a SugarCRM account. If you do not have SugarCRM that is publicly accessible or you do not have a SugarCRM account, then contact your system administrator or SugarCRM administrator.
Important
If you use SugarCRM 7.9 up to 7.11, you must install

Boost.space Integrator

API Platform module from here: https://github.com/integromat/sugarcrm-integromat-api-platform. Instructions are in the README.md file. Contact your system administrator or SugarCRM administrator if you need more information or help with installing this module.
If you use SugarCRM 8 you can either use the above method or configure API platforms using the Administration panel and add the integromat-api platform like this: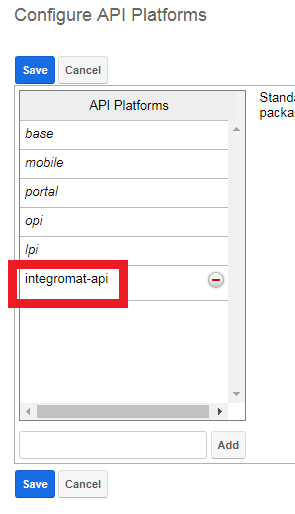 Note that SugarCRM 7/8 app supports only SugarCRM versions 7 and 8. It does not support SuiteCRM of any version.
To connect your SugarCRM account to Boost.space Integrator, follow the general instructions for Connecting to services. You have to specify the address (URL) of your SugarCRM instance, your SugarCRM username, and password. Note that Boost.space Integrator does not store your username and password. After you click the Continue button, Boost.space Integrator will validate your connection and you can continue creating your scenario.
---
Do you need help with something specific regarding SugarCRM 7/8?
We are here for you.
Get support on the road to success from real experts.
We will help you set up your business processes, create connections from your current IT stack, and set up data analysis.
Get in touch